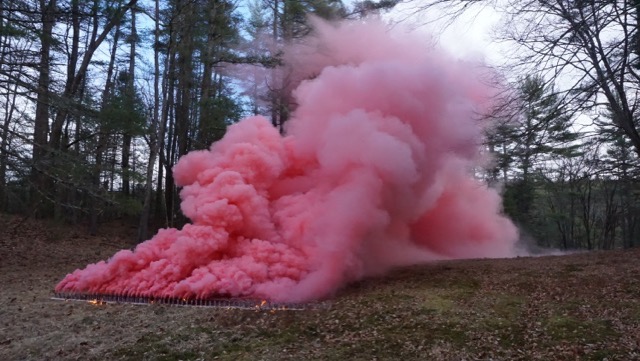 100 Pink Smoke Flares
A series of ephemeral outdoor installations consisting of 100 to 200 smoke flares lit simultaneously, temporarily masking the landscape
behind it. The ephemeral color mass created upon full ignition of all
the flares marks the appearance and disappearance of natural and urban settings as they are affected my man's hand and societal changes. In these installations Shirley reflects on landscapes in distress, nature's beauty and timelessness and general states of emergency in the age of Anthropocene. The fluidity of the work, incorporating the site in which it exists, weather conditions, as well as the audience and its reaction, adds indeterminacy to each intervention augmenting the tension and poignancy of the experience.
The work consists of the event and installation itself; video and photographic documentation becoming an extension of the live experience. In this way 100 Pink Smoke Flares refers both to landscape painting (J.M.W. Turner, Monet) as well as to site-specific interventions (Robert Smithson, Andy Goldsworthy, Roman Signer).
100 Pink smoke flares has been realized in New York at Hunter's Point South (2015), at the Queens museum for the "Chance Ecologies" exhibition (2016), in Narrowsburg, New York in the forest on private property (2016), in Flint, Michigan for the Flint Public Art Festival (2017), in Callicoon, New York for "Activating Callicoon–Algorithmic Landscapes of the Western Catskills" (2018) and the KAI art Center for the opening ceremony of the museum in Tallinn, Estonia (2019).
Above the installation in 2016 in Narrowsburg/Mother Tree residency.